1690 S Fern Street

Wasilla, AK 99654
Hours:
Monday – Friday 4:00 AM – 7:00 PM
Saturday 5:30 AM – 7:00 PM
Sunday 6:30 AM – 6:00 PM
Get Directions to Our Wasilla Drive-Thru Coffee Shop
1690 S Fern St
Wasilla, AK 99654
Try Our Specialty Drinks!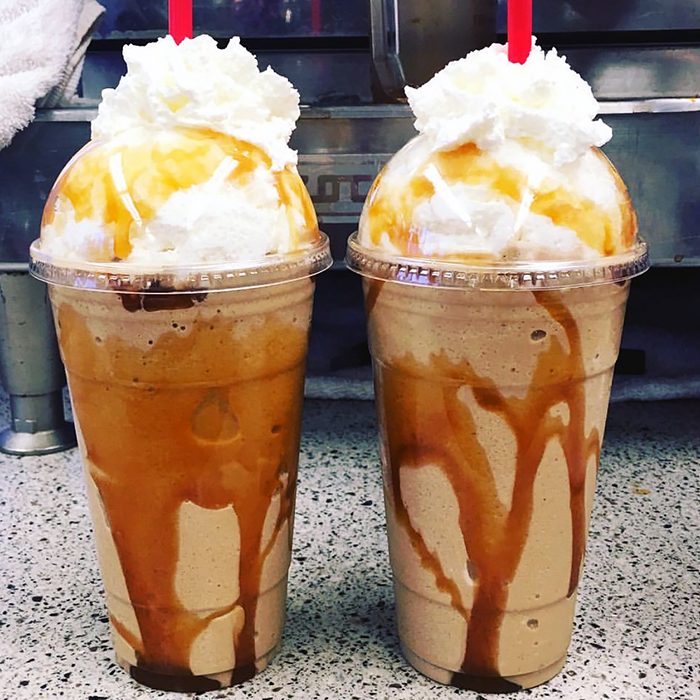 Mocha Milkshake
Looking for a way to get more chocolate in your life? The Mocha Milkshake at our Wasilla espresso stand will satisfy any chocoholic. Our recipe includes real ice cream, fresh espresso, and our signature rich mocha sauce!
Neon Smoothie
Need a little pep in your step? Our Neon Smoothie is a favorite of the regulars at our
drive thru coffee shop. This brightly colored, high energy treat is one of most popular drinks for a reason!
Lotus Italian Sodas
You won't find these organic energy drinks anywhere else in Wasilla! Blue Lotus and Red Lotus organic energy drinks can be added to your Italian soda for a healthy burst of energy!
You'll Love Our Bakery Items, Including…
Muffins
Stuffed Pretzels
Cookies
Epic Trail Bites
Bagel Dogs
Much More…
Our Values:
HEART
H

onesty & Integrity

We treat our customers with honesty and integrity. When you feel like a valued member of our family, we've done our job right! Visit our Wasilla, Palmer, and Anchorage coffee shops to see for yourself.
E

njoyment

Your morning coffee, mid-day energy drink, or favorite mocha milkshake should be fun as well as delicious! Our team members work hard to create a positive and lively environment for first-time customers and regular customers alike.
A

ccountability

We take pride in our work, our food and drinks, and our customer service. Our accountability is always on the line and we take our job seriously (but have fun too!) We are proud to provide an excellent experience every time you visit one of our drive thru locations.
R

eliability

Our greatest strength is our reliability. Our delicious drinks and outstanding service will be the same every single time you visit. We'll greet you with a smile and the drinks you love.
T

eamwork

The Perkup Espresso team is the backbone of our success. We together, and empower our team to provide only the best service to all of our customers.
5-Star Service With
HEART
"I love the coffee and other goodies at Perkup. I always have a great drink and the ladies are so friendly and fast."
"They have great deals and amazing staff. They're always so sweet and great baristas!"
"Cool little stand! The coffee is really good. I highly recommend the 'sludge' … a needed pick me up!"
Perkup Rewards
At Perkup Espresso we the best loyalty and rewards program in Wasilla! To sign up, we'll need your:
Name
Phone Number
Birthday
Ask your friendly barista how to sign up!
In our rewards program…
You earn 10 points for every dollar you spend (excluding bottled and canned beverages).
You get $1 off the purchase of a qualifying drink for every 100 points earned.
Your points can be loaded onto a Perkup Espresso gift card.
Perkup Reward Benefits:
Receive a Free Drink ($5 Value) on Your Birthday*!
Forget Your Card? No Problem!
Earn Points at Any of Our 7 Locations!
Buy 10 Drinks, Get the 11th Free!
* Birthday drink must be redeemed on your birthday and your birthday must be added to your customer file
Employment Opportunities
Want to join our team of hard-working, friendly caffeine lovers? We're always looking for reliable and friendly baristas to work with us at our drive-thru coffee stand in Wasilla.
As a barista at Perkup Espresso, you'll:
Be making the best coffee drinks in Wasilla
Greet, chat with, and get to know our regular customers
Maintain our drive-thru coffee shop so it's clean and organized
Ring up sales quickly and accurately while managing the register
Provide the best experience and service to our customers
Honor our core values of HEART
Interested?
Please email the completed application to [email protected].
Delicious Coffee and Great Service
More From Perkup Espresso