201 West Potter Drive

Anchorage, AK 99518
Hours:
Monday – Saturday 5:30 AM – 7:00 PM
Sunday 6:30 AM – 6:00 PM

Get Directions to Our Anchorage Drive-Thru Coffee Shop
201 West Potter Dr.
Anchorage, AK 99518
Find us at : Potter & C Street
Try Our Specialty Drinks!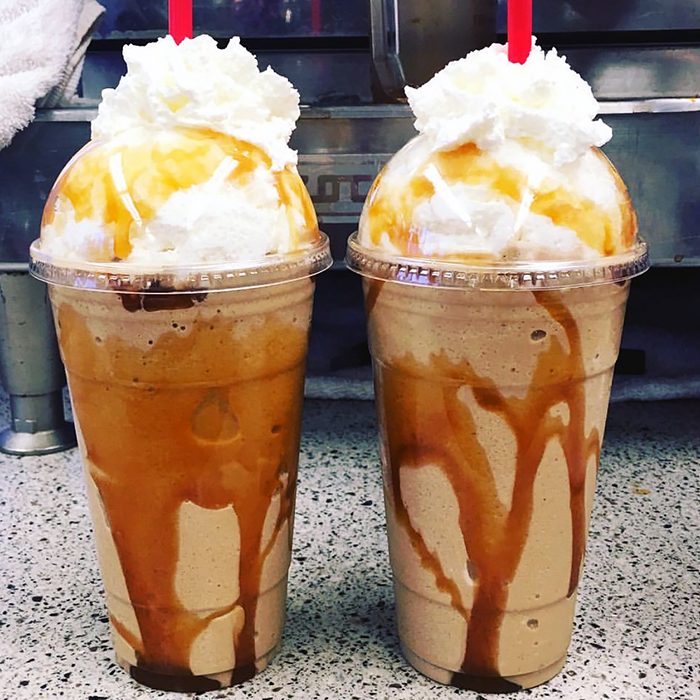 Mocha Milkshake
Chocolate lover? You'll go crazy for our Anchorage espresso stand's signature Mocha Milkshake. This specialty shake is made with real ice cream, fresh espresso and, a rich mocha sauce.
Neon Smoothie
A customer favorite and one of the most caffeine-loaded drinks at our Anchorage drive-through coffee shop. Brighten up your day with this high-energy delight!
Lotus Italian Sodas
Perkup Espresso is one of the only coffee shops in Alaska to carry Blue Lotus and Red Lotus organic energy drinks! Add them to your Italian soda for a pick me up!
You'll Love Our Bakery Items, Including…
Muffins
Stuffed Pretzels
Cookies
Epic Trail Bites
Bagel Dogs
Much More…
Our Values:
HEART
H

onesty & Integrity

We treat customers at all of our Wasilla, Palmer, and Anchorage coffee shops and each other with honesty and integrity– if we wouldn't want it to be done to us, we won't do it to you.
E

njoyment

Enjoyment – We believe in laughter. We take extra care to ensure that our customers and employees experience a positive, fun environment.
A

ccountability

We are accountable for our actions and are responsible for the success of our customers, our company, and our community.
R

eliability

At Perkup Espresso in Anchorage, we pride ourselves in the consistency of our drinks and our service. Our customers can count on the same high-quality drinks and outstanding service at any of our 7 locations.
T

eamwork

The Perkup Espresso team always works together and all team members are valued and empowered to provide outstanding service to all of our customers. We reward and celebrate the collaboration, loyalty, and great work!
5-Star Service With
HEART
Perk Up is THE BEST! They are always friendly, and my drink is perfect every time!
I always order the same drink, so the baristas get it ready when they see me. Beautiful!
Their mochas are delicious. The staff is very friendly. The location is perfect!
Perkup Rewards
At Perkup Espresso, we offer the best reward and loyalty program of any drive-thru espresso stand in Anchorage.
Ask one of our baristas the next time you visit. All you need to sign up is:
Name
Phone Number
Birthday
Here's how our reward program works:
Earn 10 points for every dollar you spend on qualifying drinks (excluding bottled and canned beverages)
For every 100 points, receive $1 towards the purchase of a qualifying drink
Your rewards points can be loaded onto a Perkup Espresso gift card– makes a great gift!
Perkup Reward Benefits:
Receive a Free Drink ($5 Value) on Your Birthday*!
Forget Your Card? No Problem!
Earn Points at Any of Our 7 Locations!
Buy 10 Drinks, Get the 11th Free!
* Birthday drink must be redeemed on your birthday and your birthday must be added to your customer file
Employment Opportunities
We're always looking for reliable and friendly baristas who want to work with us at our drive-through coffee stand in Anchorage.
As a barista at Perkup Espresso, you'll:
Be responsible for making the best coffee drinks in Anchorage
Greet, chat with, and get to know our regular customers
Keep our drive-through coffee shop clean and organized
Manage the register and ring up sales quickly and accurately
Provide our customers with the best experience and service
Honor our core values of HEART
Interested?
Please email the completed application to [email protected].
Delicious Coffee and Great Service
More From Perkup Espresso